Oscar 2012 : le palmarès
Par Cécile le lundi, février 27 2012, 05:40 - Cérémonie - Lien permanent
And the Academy Award goes to...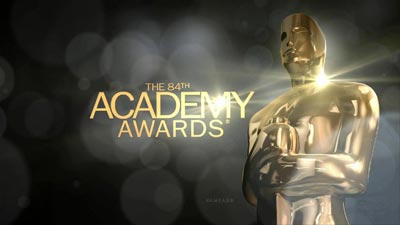 Et voilà ! La période des cérémonies vient de s'achever avec les résultats tant attendus des Oscar.
Vous avez pu vivre chaque résultat sur le Twitter du blog.
Je ferai un article spécial un peu plus tard avec des photos de la cérémonie et des photos de l'after party.
Mais en attendant voici le palmarès qui a vu le sacre, comme prévue, de The Artist avec Michel Hazanavicius comme meilleur réalisateur, Jean Dujardin, meilleur acteur, qui devient donc le premier Français à recevoir la précieuse statuette et surtout le meilleur film.
Au total il récolte 5 Oscar.
Hugo Cabret repart avec 5 Oscar techniques.
comme promis, voici les photos de la Press Room et de l'after party
A Cat in Paris
Chico & Rita
Rango - VAINQUEUR
Bullhead, Michael R. Roskam - Belgique
Monsieur Lazhar, Philippe Falardeau - Canada
Une Séparation, Asghar Farhadi - Iran - VAINQUEUR
Footnote, Joseph Cedar - Israël
In Darkness, Agnieszka Holland - Pologne
The Artist. Laurence Bennett, Robert Gould
Hugo Cabret. Dante Ferretti, Francesca Lo Schiavo - VAINQUEUR
Minuit à Paris. Anne Siebel, Hélène Dubreuil
Cheval de guerre. Rick Carter, Lee Sandales
Harry Potter et les reliques de la mort - partie 2. Stuart Craig, Stephenie McMillan
"Man or Muppet" from The Muppets, Music and Lyric by Bret McKenzie - VAINQUEUR
"Real in Rio" from Rio, Music by Sergio Mendes and Carlinhos Brown, Lyric by Siedah Garrett
The Artist. Anne-Sophie Bion et Michel Hazanavicius
The Descendants. Kevin Tent
The Girl With the Dragon Tattoo - VAINQUEUR
Hugo Cabret
Le Stratège
Hell and Back Again
If a Tree Falls: A Story of the Earth Liberation Front
Paradise Lost 3: Purgatory
Pina
Undefeated - VAINQUEUR
Robin Fryday and Gail Dolgin
. Rebecca Cammisa and Julie Anderson
. James Spione
. Daniel Junge and Sharmeen Obaid-Chinoy - VAINQUEUR
. Lucy Walker and Kira Carstensen
. Patrick Doyon
. William Joyce and Brandon Oldenburg - VAINQUEUR
. Enrico Casarosa
. Grant Orchard and Sue Goffe
. Amanda Forbis and Wendy Tilby
. Peter McDonald and Eimear O'Kane
. Max Zähle and Stefan Gieren
.Terry George and Oorlagh George - VAINQUEUR
Time Freak. Andrew Bowler and Gigi Causey
Tuba Atlantic. Hallvar Witzø

Vous avez aimé cet article? Alors partagez le